Tesco Bonds: Time to Hit the Checkout?
In January 2015, after years of market share erosion and leverage increases, Tesco bonds were downgraded to junk status by Moody's and S&P, forcing all of Tesco's debt stack out of IG corporate bond indices in the process.  Tesco's secured and unsecured bonds were large constituents of many IG portfolios, but we did not own them at that time given the long standing credit deterioration.
More than a year later, in early April 2016, we blogged that Tesco secured bonds had become cheap enough to more than compensate investors for the risks facing the business under the turnaround plan from new boss Dave Lewis, and we advocated building a position in the 'Delmar 5.547% 2029' bond at a yield of 6%.  This bond was yielding 1.75% more than a Sainsbury's bond with similar structure and maturity, and there was clear relative value there, in our view.  Additionally, because this was Tesco's first property-backed bond, we thought its already amortising cash flow profile, lower weighted average life and higher quality property book made it a compelling choice versus other Tesco property bonds.
Fast forward to this month, and Fitch has just upgraded Tesco back to investment grade. With net leverage having fallen from 3.9x to 3.1x this year, market share at least stable and profitability returning, it is highly likely that the other agencies will follow suit.  This is quite an achievement, and I would applaud what Dave Lewis has done. There were undoubtedly some easy wins in terms of asset disposals earlier on, but these were followed by bold action later in acquiring Booker, with a relentless focus on cost reduction and improving the pricing position of core consumer staples throughout this process.
This brings us potentially to the final chapter in our Tesco story – with a capital gain of more than ten points on top of the attractive yield since our April 2016 investment, Tesco is now trading at a premium to other supermarket secured bonds, such as the Sainsbury's Longstone bond shown below. So is there any upside left to the story?
Chart 1: Yield on Tesco secured bond versus Sainsbury's secured, Source: TwentyFour Observatory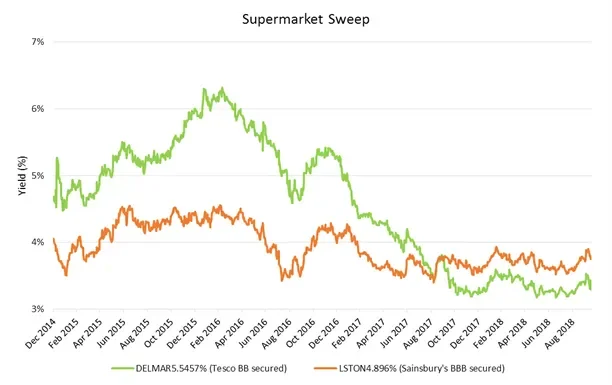 Chart 2: Tesco vs. Sainsbury's – yield differential of secured bonds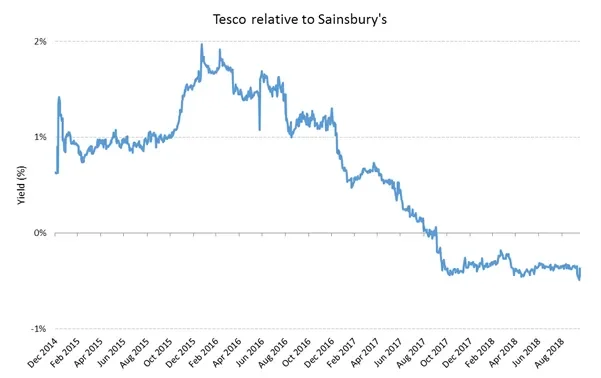 There is potentially a little left on the table – the final upgrades from the laggard rating agencies should help at the margin, as would a reduction of net leverage to less than 3x.  But beyond that, we believe relative value is now more apparent in the insurance sector.  We have top sliced our position in Delmar twice since acquisition, and we may hold on to the remaining piece for a little longer, but our trolley is now heading towards the checkout, and we reiterate our congratulations to Dave Lewis on what he and his team have managed to achieve.