BoE Buying Dampens Volatility in GBP Credit
Amid all the commentary on the Bank of England's outlook for the UK economy and the mention of negative interest rates in its latest minutes yesterday, less attention was paid to a stark increase in the central bank's holdings of corporate bonds.
In its weekly update on the progress of bond buying via its Corporate Bond Purchase Scheme, the BoE revealed it had added £617m to its holdings, taking them to £18.97bn. That is a significant number both as a proportion of the sterling market's size and trading volume.
These bonds were purchased by the BoE during its APF Corporate Bond Purchase Scheme Operation on September 10. For comparison, £132m of corporate bonds were added during the September 3 operation. We can perhaps read some seasonality into this change, though late August is traditionally viewed as the end of the summer lull in credit trading and the first week of September was relatively light on sterling primary issuance.
A more direct driver could have been the nervousness that has re-emerged in the UK market, which can been seen most directly by looking at sterling's volatility against the dollar over the last few weeks.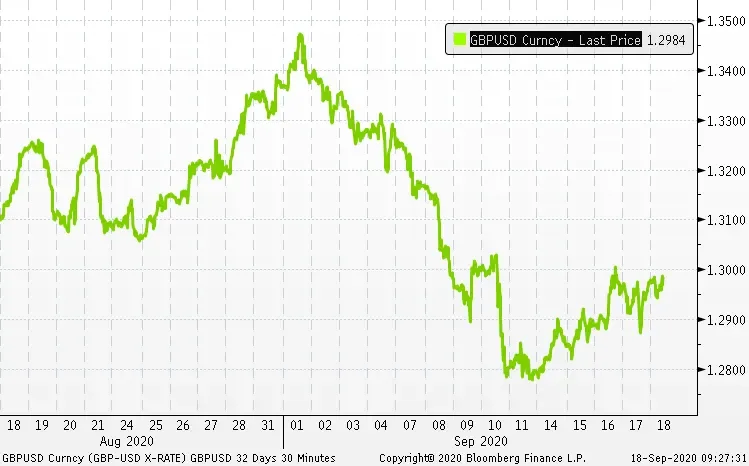 With a pick-up on public rhetoric on Brexit, the currency has begun to exhibit an increasing chance of a no-deal Brexit. This has mostly stemmed from the UK government's Internal Market Bill, which has been viewed in some quarters as the prime minister, Boris Johnson, antagonising his EU counterparts by deviating from prior negotiated commitments.
While it is impossible to prove exactly what impact the BoE's buying had on the market, we would estimate sterling investment grade spreads today would be 7-10bp wider if that £617m hadn't been purchased. So it's worth highlighting that while many economists noted a more upbeat tone to the BoE's assessment of the economic recovery, its actions reveal far more caution.
The Bank's ability to dampen market volatility has certainly been a comfort to fixed income investors; over the last month £ IG spreads have moved in a range of just 4bp and ended tighter than they started, which compares rather favourably to the 5% peak-to-trough swing in GBP-USD over the same period.